Sport and rehabilitation
Co-creating, implementing and evaluating a community-based peer-run physical activity program to enhance exercise and sport participation for adults with moderate to severe traumatic brain injury
Description:
This project aims to advance the co-creation of a community-based physical activity (PA) and sport program for persons with a traumatic brain injury (TBI). It stems from a 9-month pilot program (Jan. to Sept 2017), established with the support of the YMCA-Québec and Association des traumatisés craniens du Québec (AQTC). Feedback from participants, the administration/staff of the YMCA and the AQTC, has indicated that the pilot program was an overwhelming success. Comments however have been received on ways to improve this program. We propose to further more formally co-develop this modified version of the program with the assistance of multiple partners, including peer mentors and evaluate it. This will include a rigourous approach to prototyping thus enabling the new program to be implemented formally in January 2020 with a feasibility study starting in February 2020. Implementation of the program by other YMCAs in Québec and across Canada is the long-term goal, such that persons with TBI can enhance their exercise and sports participation.
Milestones :
1) Provide program to 2nd and 3rd cohorts while integrating peer-mentoring as mentors are trained
2) Co-create protocols (and final tool kit) for PA program incorporating mentor component during regular consultations held with the small working group of peer mentors and collaborators
3) Co-create program's logic model
4) Prepare focus group guides (or interview guides) and formally consult stakeholders – program participants, mentors, organisation partners (YMCA, AQTC)
5) Analysis of data
They did it!
The participants of the TCC-Santé cohorts have taken up the challenge of participating in a sporting event each year.
Thank you to The YMCAs of Québec, the AQTC, and the participants of the TCC-Santé program.
2017 – Indoor Triathlon at the YMCA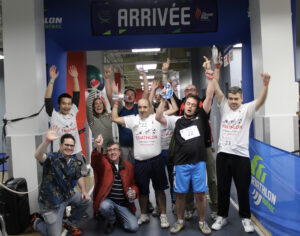 2018 – YMCA Indoor Triathlon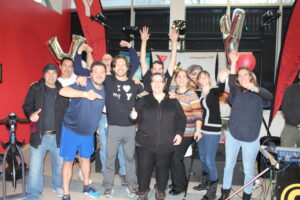 Indoor triathlon at the YMCA with research project participants
2019 – Mont Royal 5K Run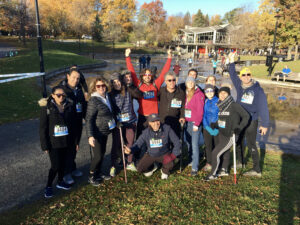 Last update: August 10, 2021
1-Provide program to 2nd and 3rd cohorts while integrating peer-mentoring
2-Co-create protocols (and final tool kit) for PA program
3-Co-create program's logic model
4-Prepare focus group guides and formally consult stakeholders – program participants, mentors, organisation partners
Team members
Principal investigators:
Dr. Bonnie Swaine, École de réadaptation, Université de Montréal, CRIR and REPAR
Dr. Shane Sweet, Department of Kinesiology and Physical Education, McGill University, CRIR and REPAR
Partners:
Éric Trudel (Director YMCA Centre-ville)
Marion Lowe (Assistant Director, YMCA Centre-ville)
Pascal Brodeur (Assistant Director, Association Québécoise des Traumatisés Crâniens – AQTC), Montreal Branch
Marc St.-Onge (Director, Association québécoise pour le loisir des personnes handicapées – AQLPH)
Co-researcher:
Enrico Quilico, doctoral student (Swaine & Colantonio), University of Toronto, founder of the pilot program under study, CEGEP teacher, private trainer, person living with a traumatic brain injury (TBI)
Dr. Angela Colantonio, Department of Rehabilitation Science, University of Toronto
Dr. Shawn Wilkinson, Department of Therapeutic Recreation, Concordia University
Dr. Lindsay Duncan, Department of Kinesiology and Physical Education, McGill University
Christophe Alarie, doctorant (B. Swaine et I. Gagnon), Université de Montréal
Collaborators (4 past participants, members of the AQTC, living with a TBI and volunteers to be peer mentors):
Julien Duval
Vincent Parent
Madjid Lahmadi
Jean-François Proulx
Intersectoral collaboration agent