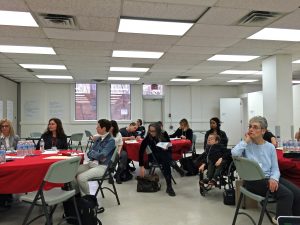 The minutes of the two researchers-partners meetings held last March are now available (in French only).
Montreal: https://lc.cx/Pa4w
Quebec: https://lc.cx/Pa4e
Do not hesitate to contact us as to inform us of developments related to the projects presented during these meetings or if you have a project idea that you wish to submit as part of our next call for proposals. Our intersectoral collaboration agents are there to support you and help you find the partners or researchers you need.
The deadline for the next call for proposals is May 18, 2018. Please find the relevant documents on our website at: https://societeinclusive.ca/en/proj/appels-de-projets/
Many thanks for your interest and participation.
The Inclusive Society Team
info@societeinclusive.ca
450 688-9550 ex: 4634 (Monday and Thursday) or leave a message on our voice mail