All the details of the program can be found online (Here)
This event, entitled "Participatory research BY / FOR / WITH marginalized groups", aims to share recently developed approaches to conducting participatory research with marginalized groups in Quebec.
Société Inclusive is partnering with the Centre de recherche et d'expertise en gérontologie sociale (CREGÉS), the Institut universitaire en déficience intellectuelle et en trouble du spectre de l'autisme and Exeko to organize this event which focuses on research BY / FOR / WITH :
People with disabilities, neuroatypical or deaf people
People from the LGBTQIA2+ community
People of immigrant or refugee background
First peoples
People living in homelessness or extreme poverty
Older adults or people experiencing loss of autonomy
People from other marginalized groups
 June 5th
at Université Laval
Registration required
Call for posters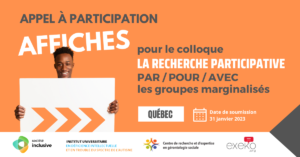 If you are a graduate student or post-doctoral fellow who has conducted or is conducting a research project with marginalized groups, we are interested in your participation!
🏆 Four prizes will be awarded during the conference.
visit the web page under the "call for papers" tab and submit your abstract before January 31st.
January 12, a short presentation is offered to students interested in submitting an abstract
January 31, submission of abstracts
February 7, selection results
April 17th, the poster must be submitted to the organizing committee.
June 5th, presentation at the symposium